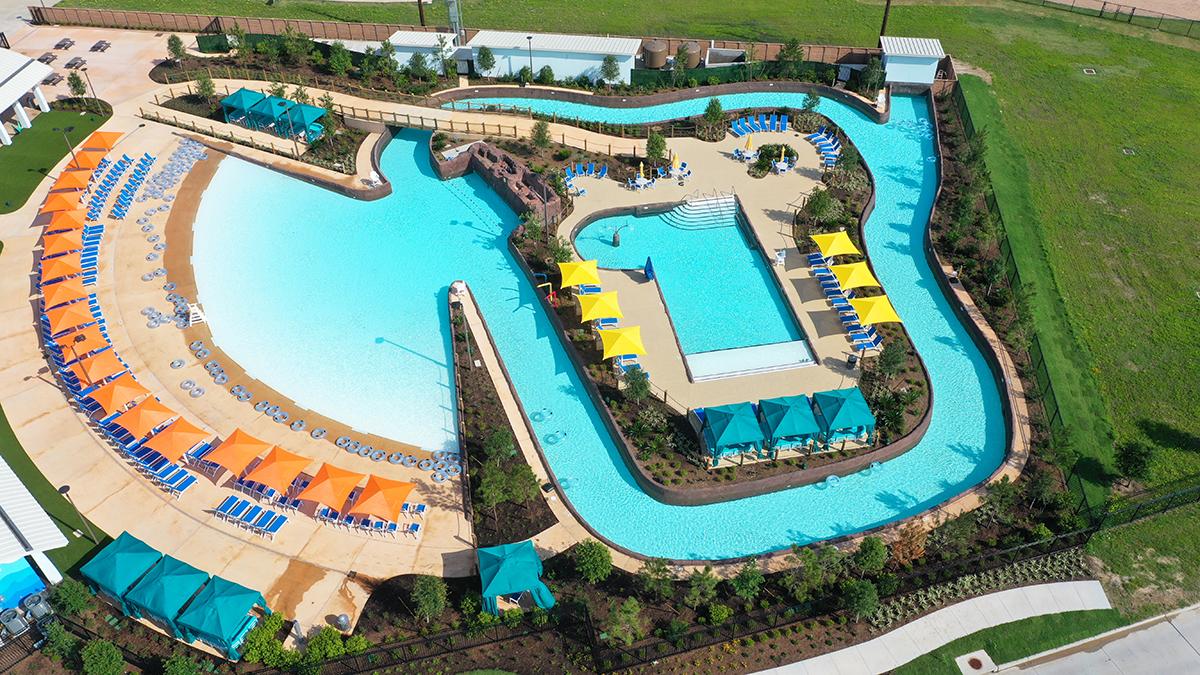 Jun 30, 2023
ADG Opens New Water Park Amenity for Residential Community in Texas
June 30, 2023 (Cohoes, NY) ADG is proud to announce their 2-acre waterpark amenity "Adventure Cove" at Meridiana, a residential community in Iowa Colony, TX, is now open. Adventure Cove features a wave pool, tidal river, fitness center, large pavilion, food truck park, and more. "It's like having a family waterpark right in the neighborhood," explains Matt Lawson of Meridiana developer of Rise Communities. "Amenities make a community and they're a big reason why we continue to have such success." ADG played the role of design/builder on the project, as well as supplied all specialty wave equipment for the property.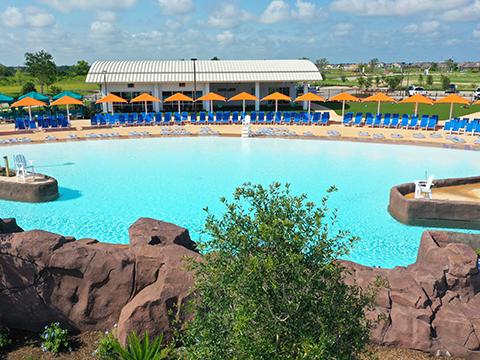 The new Tidal River is 550 ft in length and dispatches waves up to 2.5-feet tall, every five seconds. The river channel is an average width of 16 ft and includes a zero-depth beach entry.
The new amenity village also is home to a 9,300 sqft wave pool powered by ADG's wave technology featuring a gradual beach entry with family-friendly waves for all guests and residents to enjoy in addition to the two main anchor attractions is a 2,600 sqft island adventure pool which allows for guests to swim in the flat water, or engage in a game of water basketball with the situated hoops in the corner of the pool. ADG designed the pool to feature in-water sun shelves for guests to tan while still enjoying the water and surrounded the pool with comfortable lounge seating. The Adventure Cove addition features cascading hand carved waterfalls that pour into the island pools. Guests can listen to the relaxing sounds and enjoy the atmosphere.
"We know that people in Houston love water, so we definitely wanted to have a water component but create something different," said Matt Lawson, the president of Rise Communities which developed Meridiana. "That's why we worked with ADG to deliver a wave pool, tidal river and an island pool along with a number of other things."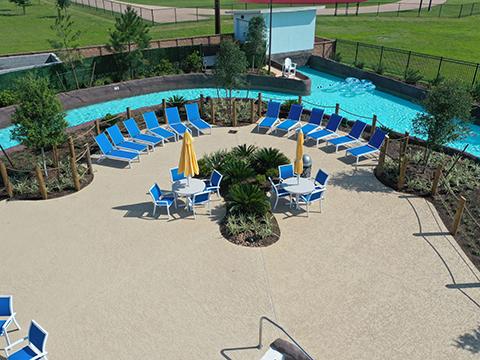 Meridiana has received several awards such as Best Community of the Year, Community Recreation Center of the year, and Best Landscape Design of the Year.
For more information about Meridiana, check out their website linked below:
https://meridianatexas.com/