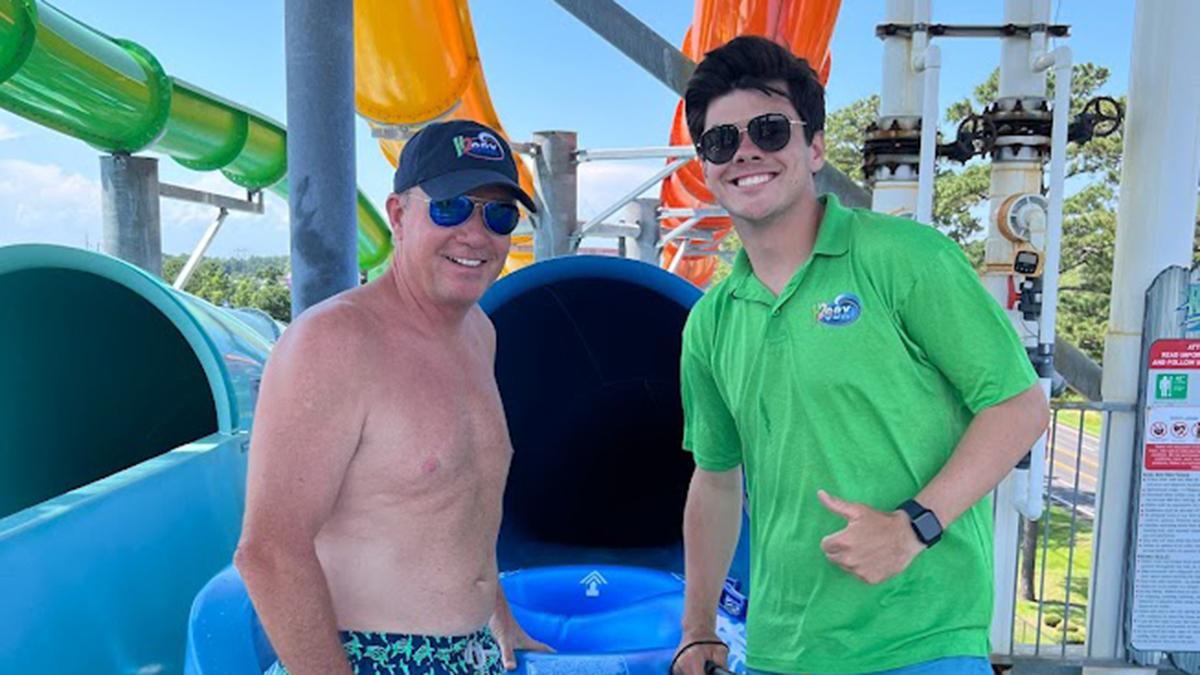 Jul 6, 2023
ADG's CEO Ken Ellis & Mentee Alex Ojeda Take on H2OBX Water Park in the Outer Banks
July 6, 2023 (Cohoes, NY) ADG's CEO Ken Ellis' mentee Alex Ojeda, waterpark influencer, takes on H2OBX water park in Powell's Point, NC. H2OBX water park, designed and built by ADG in 2017, has won numerous awards for the mix of rides and attractions suitable for guests of all ages. Alex spent two days at the park, this past month, learning the ins and outs of operations, seeing the behind the scenes of the equipment rooms, trying out numerous rides, and shooting content for his highly successful social media channels.
"Thank you to Ken, the ADG team and H2OBX water park for having me out to visit the park this summer," said Alex Ojeda, International Water park Influencer, "It was a great learning opportunity for me to see how ADG looks into all facets of a project to truly make a park successful. The park has an awesome mix of rides, a great layout, great food, and is staffed with a friendly crew. I definitely will be back."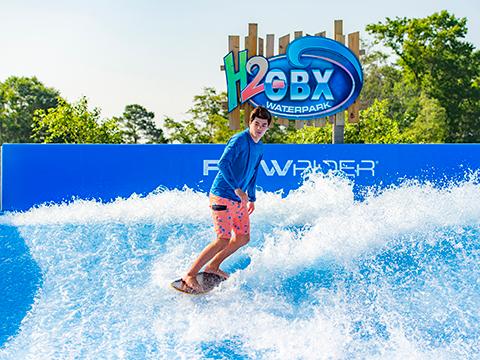 H2OBX water park is located right in the Outer Banks (OBX) and sprawls over 20 acres. The park features a 26,000 sqft marquee wave pool, a FlowRider® sheet wave, a 1,000 ft long adventure river, a dual beach Twin Tides™ wave pool, an Adventure Cove pool, and over 10+ water slides. In addition to the rides, the park is home to multiple food & beverage outlets, copious cabanas, lounge and funbrellas for guests to beat the summertime heat.
"We designed H2OBX water park with our guest's needs in mind. Tourists visiting the Outer Banks are looking for activities for their families to do as an alternative to spending their entire week at the beach. Our water park combines high thrills, kid-friendly activities and comfortable amenities – providing a fun day at the park for everyone," said Ken Ellis, CEO of ADG and Owner of H2OBX Waterpark, "We've created a destination for tourists and locals alike – and we are excited to work with Alex Ojeda to help us promote the park and the attractions we have to offer to his 11 million followers."
H2OBX water park is open now through Labor Day weekend. Ticket prices for single-day admissions for guests over 42" inches are $42.99, with great value season pass sales running through August 15! Read the H2OBX case study linked below to find out more today.
https://www.aquaticgroup.com/our-work-details/h2obx/