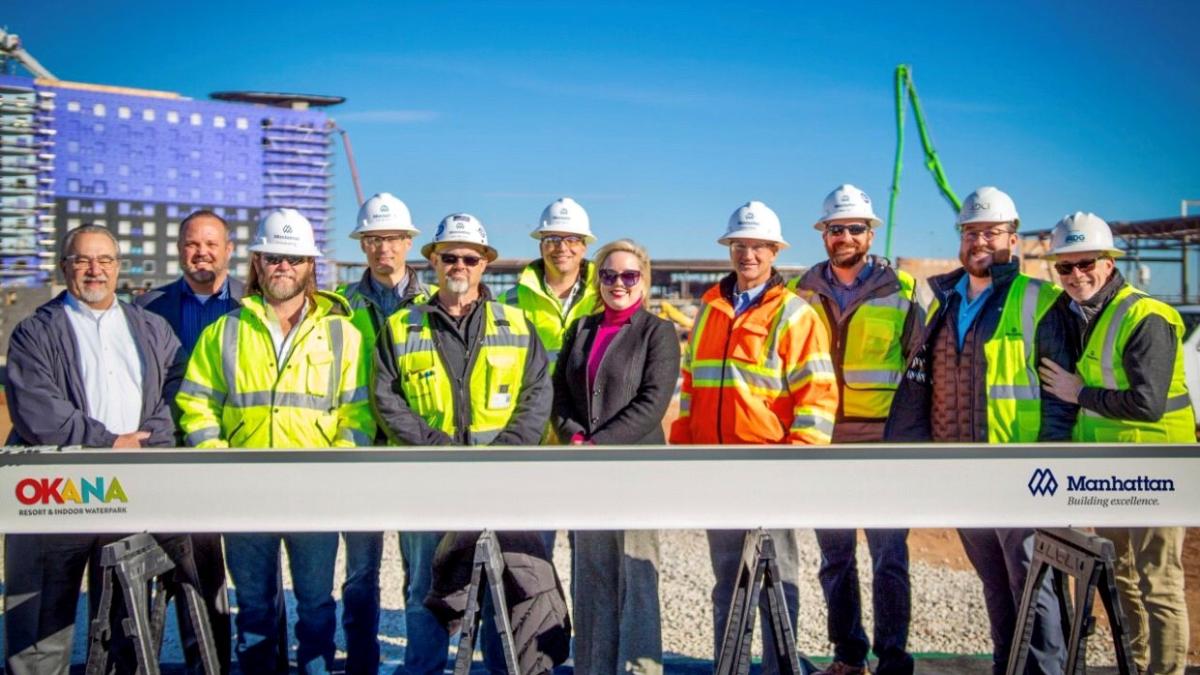 Nov 9, 2023
ADG's Resort and Indoor Waterpark Project, OKANA, Hits Major Milestone in Construction Progress!
Aquatic Development Group (ADG) is proud to announce a significant milestone in the development of the OKANA Resort and Indoor Waterpark with the Chickasaw Nation by celebrating with a Topping Off ceremony. This Topping Off ceremony was to commemorate the placement of the final steel beam of the structure, symbolizing the progress made in this innovative project. The topping off event was attended by ADG's President Jim Dunn, Chickasaw Nation tribal leaders, Oklahoma City Mayor David Holt, among other key steak holders and leaders of this project. Together, these leaders are committed to propelling the economic development of Oklahoma City and enhancing the city's appeal as a tourist destination.
This $400 million project is set to become a premier tourist destination, and has been construction on all major components of the project for over a year. The indoor waterpark's final concrete wall panels were placed in early October and all the building and waterslide foundations and columns have been installed. The hotel's wall sheathing has been completed and the vaper barrier and the roof penthouse steel work has begun. Model guest rooms will be completed soon. The conference center has gone vertical, and excavation, trenching, and pipework have started on the adventure lagoon. The grand opening is slated for early 2025.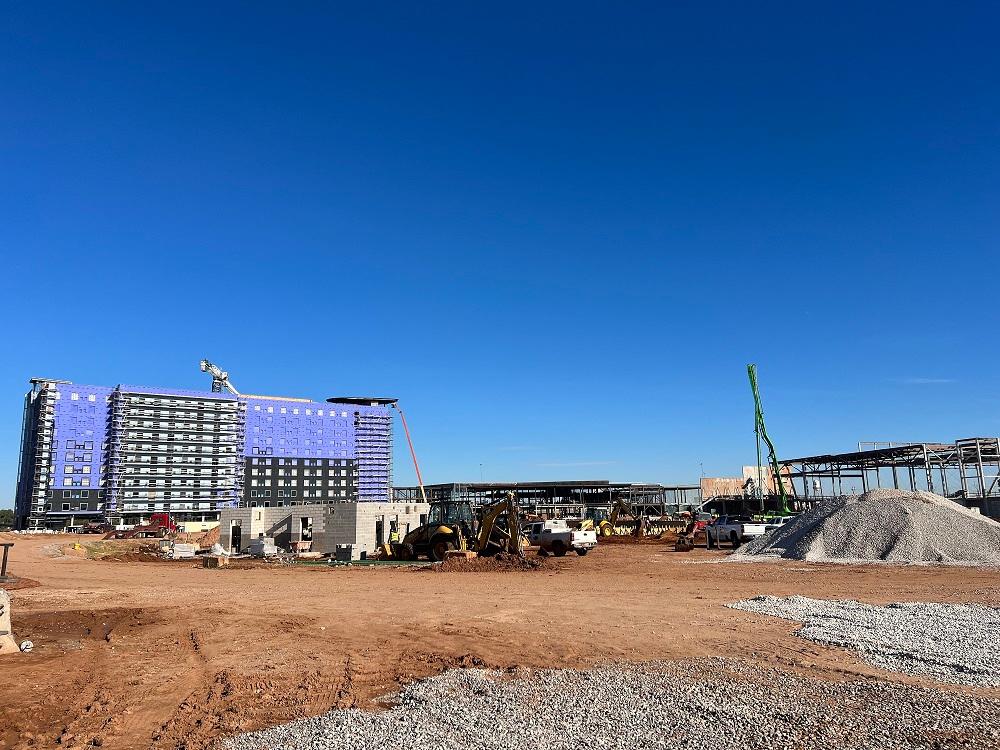 Aquatic Development Group is working as the owner's representative for the overall project and is acting as the designer and builder of the indoor waterpark and outdoor adventure lagoon pool.
Some of the key highlights of the OKANA Resort and Indoor Waterpark project include a two-level, 100,000-square-foot indoor waterpark, offering an array of thrilling water attractions, a hotel with 11 stories and 404 rooms with riverfront and lagoon views. A 4.5-acre outdoor adventure lagoon at the heart of the, a 12,000-square-foot family entertainment center, spa and golf simulator, a 39,000-square-foot conference center, and a large lawn and amphitheater with a capacity of 1,500 guests for hosting events and festivals.
Chickasaw Nation Secretary of Commerce Dan Boren emphasized the economic impact of the project, stating, "We are rapidly approaching the opening of this development which is estimated to have a $1 billion economic impact in the first decade."
With the OKANA Resort and Indoor Waterpark taking shape and nearing its grand opening, Oklahoma City is poised to become an even more vibrant and exciting destination for tourists and residents alike. The collaboration between the Chickasaw Nation and its dedicated partners is creating a new landmark that will contribute significantly to the region's growth and prosperity.
For more information about ADG and the OKANA Resort and Indoor Waterpark, check out their website's linked below!